The Company's lead drug candidate, RLV102, is a dual activator of AhR and Nrf2, two regulators of cellular protection which play essential roles in immune modulation, epithelial barrier protection and oxidative stress reduction. Activation of AhR and Nrf2 by RLV102 strongly inhibits inflammation and enhances barrier strength simultaneously leading to effective healing of the damaged tissues present in multiple chronic inflammatory diseases. The initial intended therapeutic areas will include inflammatory diseases affecting the intestine and skin using locally delivered RLV102 formulations.
RLV102 has demonstrated dose-dependent efficacy, including significant reduction in both the inflammation and stool bleeding scores, in a chemically-induced mouse colitis model. RLV102 is potentially the only therapeutic candidate for IBD which simultaneously reduces inflammation and repairs the damaged intestinal barrier, and is thus well positioned as a truly differentiated first-in-class locally delivered treatment for IBD.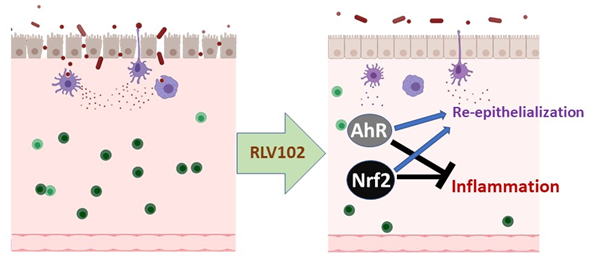 RLV102 has also demonstrated potent activities in several skin inflammatory mouse models by inhibiting key inflammatory mediators and inducing several skin barrier proteins. The Company will first test RLV102 as a first-in-class topical therapy for rosacea and then pursue other inflammatory skin diseases such as psoriasis, eczema, acne and vitiligo once RLV102 enters in clinical trials.